Shopping can make your heart grow three sizes in one day.
It is that time again, time to start filling our bellies and opening our wallets. The question is where does all the money go?
Sometimes the answer is obvious, our tummies receive a large donation of the spend with the purchase of Thanksgiving food. Another portion goes to gifts given from the heart during the "Giving Holidays." That's a lot between the months of November and December. So, how do we make sure our hard earned money is as appreciated in its new home?
Did you know that when you support small businesses, you are investing in entrepreneurship? Creativity and entrepreneurship are what the American economy is founded on. When you nurture local businesses, you can en­sure a stronger community.
Shop Local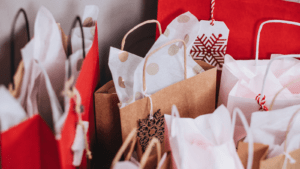 It is great to jump in the car and spend the day shopping in the big city, but that doesn't do much for your local community. Small Business Saturday®, the Saturday after Thanksgiving, is a great day for checking off your shopping list. It can also be a great day to spend time by yourself or you can make it a bonding day with the family.
Shopping in smaller towns can supply you with so many advantages. Many local spots have unique gifts you can't easily find in other locations. It also might warm your heart knowing that you are supporting your neighbors.
Small Business Saturday®
Created by American Express Small Business Saturday® is meant to encourage people to shop in smaller local establishments for the holiday weekend. Caring people just like you have been more than eager to jump on board and support the local small business community. The Small Business Association has shown us that less than one year ago, Americans spent nearly $20 billion on Small Business Saturday; that was during the pandemic. In the years before that, consumers spent a cumulative $100 billion on that year's shopping holiday.
Who Benefits
Our collective dollars are giving more back than expected. For every dollar spent at a small business, American Express estimates an average of $0.67 stays in that local community. Shopping locally gives us the potential to boost sales during the 2021 holiday season. This can be crucial for many small business owners that are still working to make up the revenue they lost throughout the pandemic and last year's weather systems.
"Going local does not mean walling off the outside world. It means nurturing locally owned businesses which use local resources sustainably, employ local workers at decent wages and serve primarily local consumers. It means becoming more self-sufficient and less dependent on imports. Control moves from the boardrooms of distant corporations and back into the community where it belongs." – Michael H. Shuman, author of the book Going Local
Making It Easy and Safe For You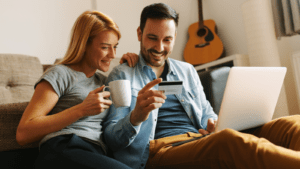 Black Friday sales can be overwhelming in stores. The good news is, you can still shop local while relaxing on your couch with a hot cocoa. Traditionally, Small Business Saturday® focuses on driving foot traffic to local shops. Like everything else in recent years, holiday shopping is a little different.
As more and more consumers do their holiday shopping online it's important for small businesses to be where their customers are. Small town shops are growing their online shopping experience. Establishing e-commerce platforms help local consumers shop when it's convenient for them while still supporting their neighbors.
In addition, the added online presence no longer limits customers to the local zip codes.The businesses are now able to expand their audience to potential online customers eager and looking for their products. A digital presence also builds trust for the small businesses. When they have a professional website customers can connect with them on a personal level.
It is the holidays and therefore the best time to connect with others around you in creative ways.
You Give in Ways You Didn't Know
Did you know that in America most new jobs are provided by local businesses? Michigan State University did a study and found that small local businesses are the largest employers nationally and create two out of every three new jobs.
The Small Business Act defines a small business as "one that is independently owned and operated and which is not dominant in its field of operation." Small businesses employ more than 52% of the nation's employees. This means that overall more Americans work for a company with fewer than 100 employees than for a large retailer, with more than 500 employees. It is just another way that your holiday spending is sustaining jobs for those who need it the most.
Foodies to Goodies
Small businesses of all kinds are going virtual. You are not limited to only buying your holiday Christmas gifts using cyber Monday deals. You can also shop local groceries, liquor stores and specialty food shops. Some local restaurants are even working to make your life easier by offering creative meal kits.
Thanksgiving is just around the corner. If you haven't already, you should draft up your grocery list and order what you can online. With food and product shortages, higher prices and shipping issues, it is still a good idea to start early. This convenience of online shopping can help you avoid the store crowds as well as give you fair warning regarding any leftover supply chain issues.
No Downside
With all the reasons to spend your money in small business this holiday season, there is really no downside. Try shopping local for your Thanksgiving meal, Black Friday or Cyber Monday holiday purchases. There is a good chance that someone within your own community will have some amazing deals or recommendations. So for now, thank you for supporting small businesses this holiday and our team at Virtual Town sends holiday wishes to you and yours this season.